Lately, the popularity of word brain has been rising. This is seen in the number of new users who are taking up the game as well as the increasing reviews. Games based on word puzzles have always been popular among children as well as grownups. In fact, many people view the games as the best way to unlock brain freeze, improve interaction, as well as develop brain power. This has led to many games being developed and launched into the market. There are currently different types of games in the market. However, word brain stands out as one of the most popular word puzzle games.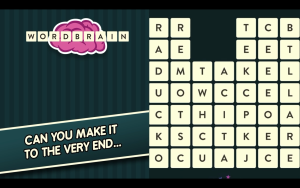 A Bit on Word brain
Word brain is a board-based word puzzle game that helps stimulate thinking by unscrambling puzzles. The online game is free and is available in 15 different languages. It can be accessed through android and iOS smartphones and other mobile devices. It comes as an app from Apple app store and also Google app store. A player is required to find hidden words that are located on a grid. After the player discovers the word, he is able to proceed to the next stage which is more challenging. The game is thus suited for people who would like to improve their spelling skills as well as brain functions.
Theme of the Game Word Brain
Word brain board resembles a Boggle board and is progressive. This means you advance to a higher level after completing a lower level. It features a grid which consists of scrambled letters and your goal is to identify the hidden words. The game follows a gradual process that sees a player start with simple words then progressing to more complex words. And to assist a player, word brain also gives tips and hints. The initial stage consists of four letter words located on a 2×2 grid. The game starts with single or one word option but later includes multiple options as you advance. After conquering the 2×2 grid, you then move to a more challenging 3×3 grid.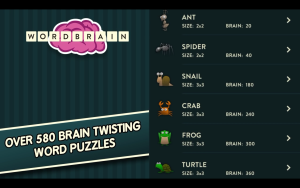 Game Levels and Combinations
Available in 15 different languages, Word brain comes with 580 puzzles/levels. It comes with 10 to 20 levels per pack and the total number of packs is 30. 2 x2 grid that features one word is the lowest level. Thereafter, you progress to 3×3 grid which more than doubles the available words and require you to identify two hidden words. Unlike many other similar games, this game doesn't come with penalties. This means you have the option of trying various combinations without worrying about being relegated to a lower level, loosing points, or any other penalty. The no-penalty approach makes the game more interactive as well as exciting.
How to Play the Game Word Brain
To complete the levels sooner-rather-than later, a player needs to have the right strategy. A player can swipe right, left, upwards, downwards and also diagonally. It is vital to swipe in the right order or direction or else you'll be stuck at the same level. Small black squares located at the lower section of the grid indicate the length and number of words a player has to come up with. In case of difficulty, one may search for hints using the hint button located beneath the grid. A times, a player may exhaust the hints and will be required to purchase more hints through the In App Purchase option. The words become more difficult and longer as you advance in the levels.
Who Can Play The Game?
Though it can be played by people of all ages, the recommended age for Word Brain is 7 years and above. People who will find this game suitable include mature adults who want to put their brains to test while still having fun, or individuals competing against each other. It's also suitable for teachers or tutors who want to improve spelling skills in their students. The game also comes handy in language development as it aids users to discover new words and each level comes with more challenges. People who desire to develop their brain functions and puzzle solving skills will also find the game suitable.
Pros of Word Brain
Simplicity: Word Brain puzzle game is based on a simple and straightforward strategy. A player begins from a low level and progresses to the next level without time restrictions.
User friendly Interface: It follows a simplistic and friendly appeal that incorporates simple design and easy to use options located at the bottom of the grid.
Interactive: The platform is pretty basic and simple and doesn't come with too many features or symbols that usually clog the screen.
Free: The word puzzle is free of charge and can be played after accessing the app from Apple or Google app stores.
Versatile: WordBrain comes with more than 580 puzzles, 30 packs each consisting of 10 levels. This offers a player many puzzle solving combinations that can be tried out at different levels. Besides the diversity, it also enhances the playing experience.
Zero penalties: Unlike other puzzle games in similar class, this game has no penalties such as missing a turn, losing points, or remaining at the same level.
Sharing: Players can compare and share information on the game via social networking sites such as Facebook. Not only does sharing scores and other details make the game more interactive but also exciting.
A Word Brain solver has been made so if you get too frustrated you can get help.
Cons of Word Brain
Since the game is designed for children aged 7 years and above, those aged below this age are left out. This is because Wordbrain game becomes more challenging especially after progressing to higher levels.
In App purchasing: After exhausting the free hints, a player requires to buy additional hints for real money. The value of the hints increases with the number purchased.
If you start the game on a different device, you have to start over. Your solutions are not saved on your other device so you may find you have to do the puzzle all over again.
Final Thoughts
Several issues have been revealed about this word puzzle game. The game which can be accessed online as an app via Apple or Google app stores is available in 15 languages. It comes with 580 combinations and doesn't feature any penalties. What's more is that it can be played by both children as well as adults using smartphones, android devices, and other mobile gadgets. In addition to improving puzzle solving skills and brain functions, the game is also entertaining and interactive. The only drawback is the age restrictions as its best suited for people aged 7 years and above, and the additional cost of purchasing hints from "In App Purchase" option. Bottom line is the Word Brain game is worth the time and money.
(Visited 3,103 times, 1 visits today)